Effective Technology for Restaurant Success
Accelerate your business potential with the innovative CloudPOS app
Easy to Use
Intuitive touch screen interface to take orders. Eliminate staff training with the user-friendly design.
Improve Productivity
Run your business more effectively by speeding up your counter & tableside service. Paperless orders for the win!
Customer Experience
Keep your customers coming back with shorter lines and faster checkouts. Have them tip & sign on your iPad.
Explore Features
All the tools you need to run your restaurant, big or small
Replace your old Cash Register
No need for extensive staff training with the remarkably simple and easy-to-use touch screen interface.
Order History at your Fingertips
Manage all your orders in one place. Whether you want to view yesterday's orders or see how many To-Go orders were made, Order Management makes it all convenient.
Process Payments Securely
Handle transactions easily by accepting payments via cash or credit card using an integrated card reader or an external terminal.
Get key business insights from your sales data
Get a Daily Summary at the end of each business day, view Top Selling Items, and print Sales Reports.
Be in the know - anytime, anywhere
All your data is backed up to the Cloud for easy and secure access from anywhere. Know what's going on in the restaurant in real-time.
Easy Menu Updates
Customize your menu and adjust prices from the restaurant – or from home – and it's available on all your devices with the touch of a button.
Waiter Management
Waiters will be able to quickly Log In with their unique Passcodes with permissions set by the administrator. Each order will be linked to a waiter and the waiter's name will appear on receipts.
Item Modifiers & Add-ons
Customize orders based on your guests request. Make it spicy, set a cooking preference or add an extra patty! You will soon be able to easily add modifiers and add-ons directly in our app.
Franchise Management
We are planning to scale up our backend systems in order to accommodate medium to large franchises so they can leverage the CloudPOS platform and manage several stores in one dashboard.
CloudPOS Dashboard App
We are working on launching an iPhone / Android app for restaurant owners who use CloudPOS as their point-of-sale system to monitor their restaurant's sales and reports on the go.
Offline Mode
Have a poor internet connection or no connection at all? We are working very hard to bring you the most requested feature to make sure you can still process orders without connectivity.
Table Management
You will soon be able to assign table numbers to orders and get an overview of all tables in your restaurant at a glance, capture when the customers arrived and were seated.
Pricing
Hassle free, straightforward plans with no contracts
$29/mo
Basic
Single Device
Software Only
Sign Up
Popular
$49/mo
Plus
Single Device
AmeriCloud™ Payments
Sign Up
$69/mo
Advanced
Two Devices
AmeriCloud™ Payments
Sign Up
No cancellation fees, annual fees or any other hidden fees. Additional devices costs $10/mo each. No up-front costs to sign up and software upgrades are included for free. With AmeriCloud™ Payments, you will get an integrated merchant account and the ability to process your credit card transactions at a low average rate of 1.99% + $0.30 per transaction.


Hardware
Choose a bundle that's most suited to your style and needs!
Standard Bundle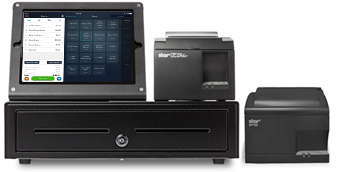 Heckler WindFall® Stand
Thermal 3″ Receipt Printer
Impact Dot-Matrix 3″ Kitchen Printer
MagTek aDynamo Card Reader
Ingenico IPP 320 (EMV + NFC)
Star 16″ Cash Drawer
Compact Bundle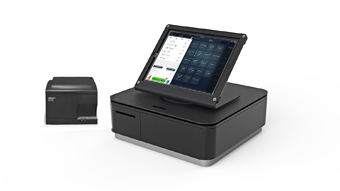 Star Micronics mPOP™
Integrated Cash Drawer & 2″ Receipt Printer
Heckler WindFall® Stand + PopTop
Impact Dot-Matrix 3″ Kitchen Printer
MagTek aDynamo Card Reader
Ingenico IPP 320 (EMV + NFC)
Compatibility: Requires iOS 8.0 or later. Apple® iPad Air, iPad Air 2, iPad mini 2, iPad mini 3, iPad mini 4, iPad Pro 9.7-inch.
Contact Us
Interested in learning more? We can't wait to hear from you!
Partners
We've partnered up with industry leaders so that together we can bring our customers the best possible product and experience.